| | |
| --- | --- |
| | So you better run for cover when the pup grows up! |
There are two younger boys born after their brother Gavroche. Like Gavroche, they are thrown to the streets once they are older, for Madame Thénardier only shows love to her daughters Éponine and Azelma.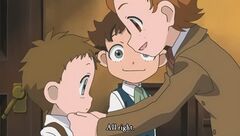 The inn goes bankrupt later in the story. The Thénardiers lent (more likely sold) their younger sons to Magnon to replace her two dead sons. The boys are later given an address to go to, but they lose it. Living on the streets, they encounter Gavroche and he later takes care of the two boys without knowing they are related to him. The two boys are last seen retrieving thrown bread from a fountain at the Luxembourg Gardens.
In the 2007 anime adaptation Les Misérables: Shōjo Cosette, the two boys are named Hugues and Bressole. In the novel, their names are unknown.