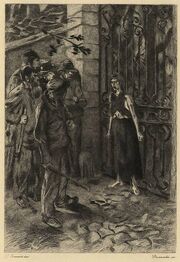 The Patron-Minette is a Parisian gang who walk through the streets of the city, robbing the houses of the people, mainly of the rich. They acted as secondary villains and were referred to, in the book, as 'Devils of Crime'. The gang consisted of four criminals: Montparnasse, Claquesous, Babet, and Gueulemer. They were well acquainted with the Thénardiers, who recruited them to assist in robbing Jean Valjean.
Victor Hugo explains that the name "Patron-Minette" is an old-fashioned slang expression referring to the early dawn, "the hour at which their work ended, the dawn being the vanishing moment for phantoms and for the separation of ruffians".
Members
[
]
Affiliates of the Gang
[
]
Thénardier -  A cruel, wretched, money-obsessed man. Thénardier extorts money from whomever he can, and he frequently serves as an informant to whoever will bid the highest. His schemes range from robbery to fraud to murder, and he has strong ties to the criminal underworld in Paris.
Brujon - A robber and criminal. He is "a sprightly young fellow, very cunning and very adroit, with a flurried and plaintive appearance." He participates in crimes with Thénardier and the Patron-Minette gang (such as the Gorbeau Robbery and the attempted robbery at the Rue Plumet).
Trivia
[
]
In the musical, the leadership of the gang was replaced by Thénardier making the four original heads as his henchmen.
Gueulemer is the only main member of Patron-Minette to not feature in the musical. He was replaced by Brujon.
Gallery
[
]