Everybody raise a glass to the master of the house!

This article was featured on the front page.
Won't you say? Will you tell?

Warning! Look down to view spoilers.
Monsieur Thénardier

Biographical information

Also Known As

Jondrette
Fabantou
Baron Thénard
Genflot
Don Alvarès
Balizard

Gender

Male

Eye Color

Brown

Born

1773

Family

Éponine (daughter)
Azelma (daughter)
Gavroche (son)
Two unnamed younger sons

Relationships

Madame Thénardier (wife)

Job

Innkeeper (formerly)
Slave traders

Behind the scenes

Portrayer

Yvan Dautin
Alun Armstrong
Leo Burmester
Graeme Campbell
Laurent Gendron
Paul de Leeuw
Gary Beach
Carlo Boszhard
Matt Lucas
Jon Kenny
Cameron Blakley
Tom Edden
Christian Clavier
Phil Daniels
Sacha Baron Cohen
Michael Ronca
Jack Harty
Liam McCluskey
David Langham
Steven Meo
Monsieur Thénardier is a main antagonist from the novel Les Misérables by Victor Hugo. He is an innkeeper in Montfermeil and becomes a crook in Paris. He is married to Madame Thénardier. He and his wife demand more and more money off Fantine for raising Cosette that it drives Fantine to her deathbed
Novel
[
]
Monsieur Thénardier is an (former) innkeeper who will do anything for money. As an innkeeper, he had accepted Fantine's plea to take care of her daughter Cosette. Thénardier used Cosette to get Fantine to send them money on various occasions, eventually driving Fantine to desperation and prostitution. Eventually, Jean Valjean became Cosette's guardian after paying Thénardier 1500 francs.
While looting the dead after the battle of Waterloo, he inadvertently saved Colonel Pontmercy while actually robbing him. Colonel Pontmercy had instructed Marius to serve him in his will.
After he lost his inn, he became Marius Pontmercy's neighbour, but he has never seen him himself. During this time Thénardier was involved in various criminal activities. One of such was the various scams in which he assumed fake identities to swindle money from the rich.
Thénardier met Valjean carrying Marius at a locked sewer grating after Thénardier was followed by Javert, who was attempting to "spin" him. Due to lighting he was unable to recognize Valjean, and since Marius was unconscious, Thénardier assumed Valjean had murdered Marius. He traded the key to unlock the sewer to Valjean in exchange for all the money that Valjean had.
At the end of the novel, Marius, Colonel Pontmercy's son, gives 1500 francs to Thénardier for "saving" his father, whereupon the former innkeeper and his other daughter Azelma moving to the United States of America, where he became a slave trader.
Musical
[
]
Act I
[
]
Thénardier, like in the book, is a con artist ready for money. He also treated Cosette like a servant. When Jean Valjean adopted Cosette, he and his wife were given 1,500 francs. In "Look Down", Gavroche mentions that the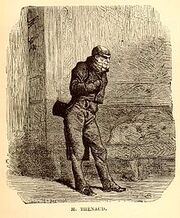 Thénardier family lost their inn and Thénardier, along with the reluctant help of his teenage daughter Éponine, runs a gang in the streets. Thénardier reconizes Valjean as the man who adopted Cosette and plans to expose him, but Valjean and Cosette escape. Still, that doesn't give Thénardier less time to tell Javert where Valjean is going. Thénardier and his gang appear again attempting to rob Valjean's house, but Éponine, knowing that Marius and Cosette are in danger, lies by saying that there is nothing in the house except that Valjean and his adopted daughter live ordinary lives. Thénardier ignores her and decides to do it. Éponine threatens him that she'll scream and when she does, he runs off with the rest of his gang. He and his wife hide underground while the uprising occurs, planning to rob any of the dead after the battle.
Act II
[
]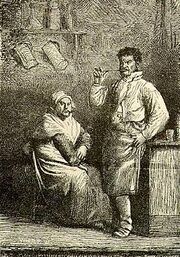 As Valjean carries an unconscious  Marius from the barricades through the sewers, Thénardier is robbing corpses, taking Marius's ring as well. He is startled when Valjean gets up and leaves (in the novel and 2012 film, Valjean demands to know how to get out of the sewers).
His last appearance is when he and Azelma(in the musical and 2012 movie he and his wife) crash Marius and Cosette's wedding in order to blackmail Marius, disguised as "The Baron du Thenard."  Marius recognizes them quickly and pays them to hear what they have to say. Thénardier lies to him saying that Valjean was carrying a corpse that he murdered in the sewers on the night that the barricades fell. Marius recongizes the ring Thénardier shows him and realizes that Valjean saved him from the barricades. He punches Thénardier in the face (and in the movie, demands to know where Valjean had went) and leaves with Cosette. The Thénardiers celebrate their survival, not even caring for their children and enjoy the party (in the movie, they are kicked out).
Songs
[
]
Act I
[
]
Act II
[
]
List of Portrayers
[
]
Musical
[
]
Movies
[
]
External Links
[
]
Gallery
[
]
2012 Film                                    
[
]
2019 mini series

[

]
Musical
[
]
Other Films
[
]