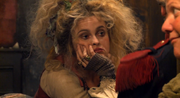 Helena Bonham Carter is an award-winning English actress. She is best known for her roles as Marla Singer in Fight Club, The Red Queen in Alice in Wonderland, Bellatrix Black Lestrange in the Harry Potter series, Mrs. Bucket in Charlie in the Chocolate Factory ,Mrs. Lovett in Sweeney Todd: The Demon Barber of Fleet Street and Elizabeth (George Ⅵ's wife) in The King's Speech. She was nominated for an Academy Award for the Best Supporting Actress for her portrayal as Elizabeth in The King's Speech.
Carter is currently romantic partners with writer/director Tim Burton and they both have 2 children. In the past, she has also been involved with Kenneth Branagh, Rufus Sewell, and Steve Martin. She is the villain Serena Kogan in Terminator Salvation: The Future Begins.
She portrayed Madame Thénardier in the 2012 Film.
Filmography
Edit
Fight Club (1999) - Marla Singer
Sweeney Todd (2007) - Mrs Lovett
Alice in Wonderland (2010) - Red Queen
The King's Speech (2010) - Queen Elizabeth
The Lone Ranger (2013) - Red Harrington
Cinderella (2014) - Fairy godmother