| | |
| --- | --- |
| | So you better run for cover when the pup grows up! |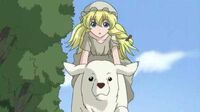 ChouChou is Cosette's dog in the 2007 anime adaptation Les Misérables: Shōjo Cosette.
Cosette first saw him when he was still a young pup, and he becomes Cosette's companion while living in Montfermeil. After Jean Valjean takes her away, he becomes Gavroche's companion in Paris.
ChouChou later saves Gavroche after being shot at the barricades.
ChouChou in French means "little cabbage" and is used in France as the same meaning as English "honey" or "dearie".