Won't you say? Will you tell?

Warning! Look down to view spoilers.
Azelma Thénardier is a minor character in Victor Hugo's novel Les Misérables. She is the youngest daughter and second-born child of Monsieur and Madame Thénardier.
Along with her older sister Éponine, Azelma is spoiled as a child and mistreated Cosette, but suffers from the same ragged and impoverished fate with her family when she is older. She also participates in Thénardier's schemes. She does not appear much, but she is shown to be close with Éponine.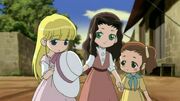 Unlike Éponine, Azelma is not independent. She also does not show any defiance towards her father (this is evident when, before
Jean Valjean
and Cosette's charitable visit, Thénardier orders her to punch a windowpane in their apartment in order to look poorer. Although she is hesitant at first, she does so, resulting in cutting her hand). After the failed robbery of Valjean, she is not seen again until
Marius
and Cosette's wedding day, when she and Thénardier are dressed up as "masks" for the Mardi Gras, and she follows Valjean under her father's orders.
At the end of the novel, Azelma and her father are the only known surviving members of the Thénardier family and both travel to America together where Thénardier becomes a slave trader
List of Portrayers
Edit
Jaqueline Fermez - 1934 film (uncredited)
Maxine Cook - 1935 film (uncredited)
Yvonne Décade - 1958 film
Catherine Di Rigo - 1982 film
Veronika Bendová - 1998 film (Note: Azelma only appears as a child in this film.)
Julie Dumas - 2000 mini-series (uncredited)
Chihiro Yarita - Shōjo Cosette 2007 anime
Adolescent
Edit
Denise Mellot - 1934 film (uncredited)
Mary Adler - 1935 film (uncredited)
Isabelle Lobbe - 1958 film
Corinne Dacla - 1982 film
Sophie Milleron - 2000 mini-series
Kurumi Mamiyo - Shōjo Cosette 2007 anime