Anthony Warlow (born 18 November 1961 in Wollongong, New South Wales, Australia) is an Australian opera and musical theatre performer, noted for his character acting and considerable vocal range. He is a classica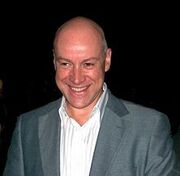 lly trained lyric baritone.
In Les Miserables
Edit
He played Enjolras in Les Misérables in 1988. He was internationally regarded as the best Enjolras and was honoured by being selected for the Complete Symphonic Recording, along with leading Les Misérables performers from around the world along with fellow Australian actor Philip Quast as Javert. This was arguably his break-through role, as he was cast as the Phantom as the Australian tour of Les Misérables was ending.
Personal Life
Edit
He is married to Celia and they have a daughter, Phoebe Rose.
Warlow was diagnosed with Non-Hodgekin's Lymphoma in 1992, during the early publicity for the arena production of Jesus Christ Superstar where he was to appear as Pilate. He had to put his career on hold for about a year while he dealt with the disease, and his role in the production was given to John Waters. He returned to the performance circuit in the second half of 1993 with a national concert tour for the launch of his Back In The Swing album. He has since done promotional work for the Leukaemia Foundation of Australia.
His fourth solo album, Midnight Dreaming, reached the top ten of the Australian Aria Charts. Warlow also briefly appeared on the ARIA Singles Chart in 1998 with the double A-side single "Beauty School Dropout/My Prayer". Warlow was back on television, in a concert performance, on the night of 24 December 2006 (the concert was shown by the Australian Broadcasting Corporation).
On Doctor Zhivago's opening night in Sydney (February 2011), Warlow tore a calf muscle four hours before the show was due to start, and was thus cut short. Understudy Anton Berezin covered the role and after about a week's worth of rest, Warlow was back on the boards performing to critical acclaim.