Alfred Giovanni Roncalli Boe, known professionally initially as Alf or Alfred Boe and now as Alfie Boe, is an English tenor. He played the role of Jean Valjean in the 25th Anniversary Concert live at the O2.​
Background
Edit
Boe, the youngest in a family of nine children, was born in Blackpool, Lancashire, and brought up in nearby Fleetwood. Contrary to popular belief, he does not have Italian blood. His mother and father - who are of Irish and Norwegian descent respectively - named him after the Italian name of Pope John XXIII. He attended St Wulstan's and St Edmund's School and Cardinal Allen Roman Catholic High School in Fleetwood. His earliest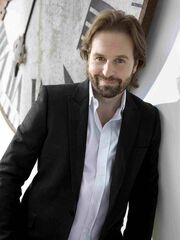 musical memories were of listening to his father's Richard Tauber records and at the age of 11 he discovered Puccini's La Bohéme for the first time.
Boe's first public performance, aged 14, was at Fleetwood's Marine Hall in a "Songs from the Shows" presentation organised by inspirational local singing teacher Lottie Dawson. He states that although he sang only a couple of lines he was extremely nervous.
At the age of 17, Boe became an apprentice mechanic at the TVR factory in Bispham, Blackpool. He enjoyed entertaining his colleagues by singing opera arias while he polished the cars, and one day was overheard by a client with connections in the music industry who was so impressed, he suggested Boe should go to London and audition for the D'Oyly Carte Opera Company. His audition was a success and he gave up polishing cars to embark on a singing career. Boe has never been able to trace the customer who suggested he go for the audition, having lost the man's business card.