| | |
| --- | --- |
| | So you better run for cover when the pup grows up! |
The 2008 Vancouver youth production was performed in between June 5 (in honor of the revolution) and June 19 2008. It was put on by a children's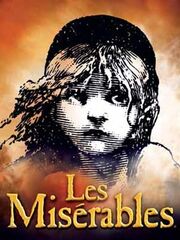 theater troupe by youth aged ten to eighteen. Two actors portrayed each of the major roles.
The production lasted two weeks, and collected money that went to a local homeless charity.
In order of appearance
Jean Valjean: Peter Avsenick, Jason Widdrington
Javert: Justin Andrus, Jack Wood
Fantine: Emma Giroux , Molly McIlwraith
Little Cosette: Tanaz Gara, Madison Mojarab
Madame Thénardier: Maria Ghassemi , Marianne Mendez-Percivale
Young Éponine: Chloe Finlay, Margie Morgan
Monsieur Thénardier: Aaron Alimena, Giovanni Wortsman
Gavroche: Conrad Adams, Stephan Zanatta
Marius: Adam Akerewusi, Sean Wren
Enjolras: Michael Ades, Raphael Yiu
Éponine: Jackie Finkelstein, Ellie Nestico
Cosette: Heather Garbutt, Kaitlin Moher
Ages of Cast Members (outside of opening night)
Edit
Jason Widdrington: Seventeen
Justin Andrus: Eighteen
Molly McIlwraith: Eighteen
Tanaz Gara: Ten
Marianne Mendez-Percivale: Seventeen
Margie Morgan: Eleven
Giovanni Wortsman: Seventeen
Conrad Adams: Thirteen
Adam Akerewusi: Fifteen
Raphael Yiu: Sixteen
Ellie Nestico: Sixteen
Heather Garbutt: Seventeen
Note: all these images come from the opening night performance on June 5th, 2008.